DPT, RYT, Physical Therapist
I grew up in a suburb of Chicago, IL but have been a nomad since I left. I fell in love with Grand Rapids, Michigan where I completed my undergraduate degree at Grand Valley State University. I then lived close to Salt Lake City, Utah where I had the pleasure of exploring the mountains before I completed my degree receiving my Doctorate in Physical Therapy from Rocky Mountain University of Health Professions in April, 2020. From there, I moved to and worked in an Outpatient Orthopedic clinic in Portland, Oregon. Most recently I moved to Asheville, NC from Lake Charles, Louisiana where I also worked in an Outpatient clinic. My journey in physical therapy began after I fell in love with the Asana practice of yoga during my early high school years. I then pursued my 200-hour teacher training in 2014 where I was in awe with human anatomy and how the body worked. Since then I went through many years of school, graduating with my DPT in 2020. I have treated people of all walks of life with special emphasis in older adults, working with them on reducing fall risk and improving overall fitness. I have also had much experience with dizzy patients whether it be BPPV or vestibular hypofunction. I have had continual education specializing in helping those with chronic or persistent pain and utilizing techniques such as trigger point dry needling, myofascial decompression, myofascial release, spinal manipulation and mobilization, as well as adding mindfulness training into my clinical practice. I also have experience with helping older adults with osteoporosis or osteopenia optimize their bone mineral density by researching and answering questions these individuals may have on bone health.
Top 5 values at this time in my life: Health, Family, Environment, Mindfulness, and Adventure.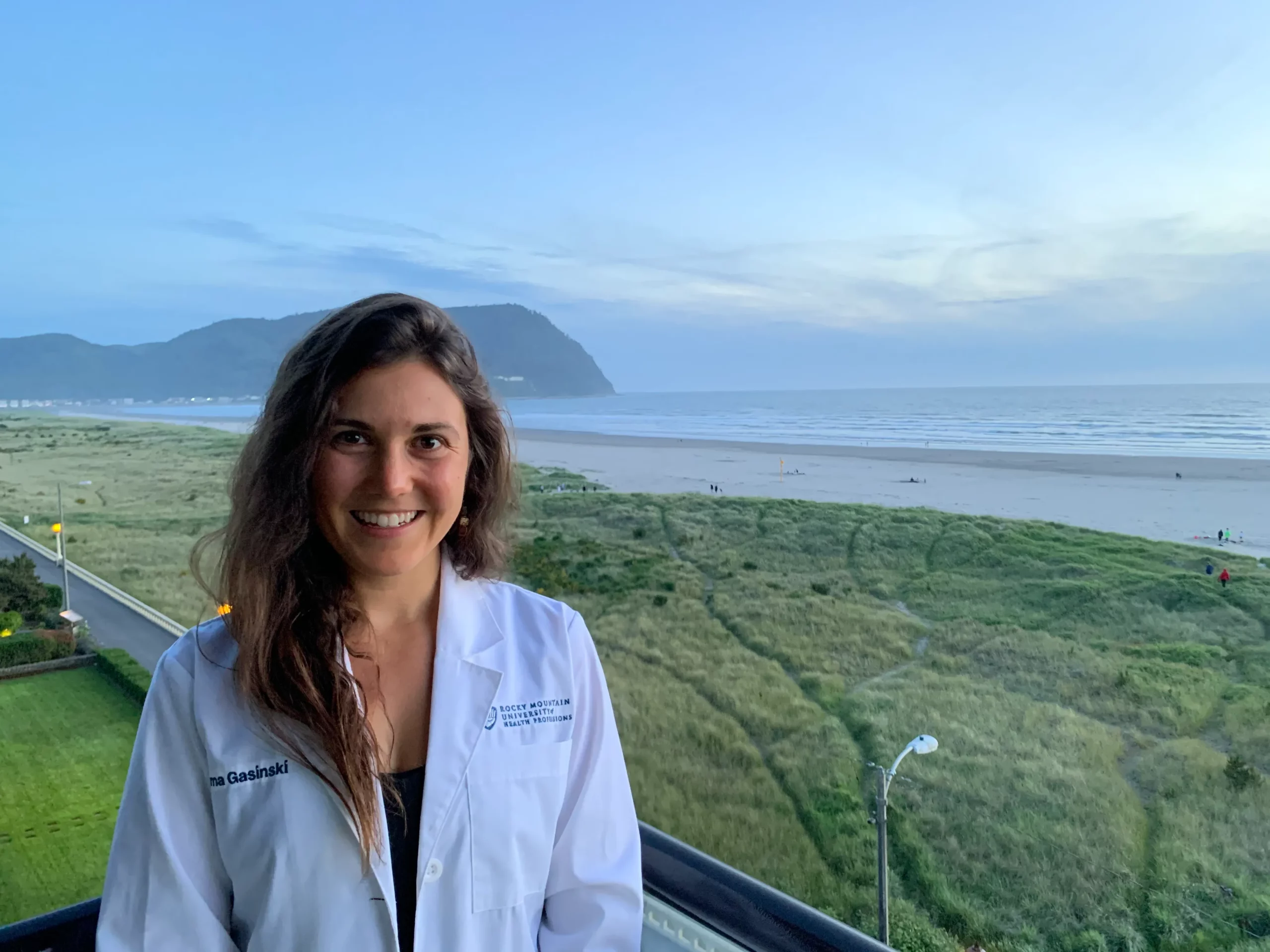 "Choose Happy and Always Be Well"
(My family motto)
I HATE having to stop my activity myself because of MSK pain. I want to be the one to give you a simple exercise recommendation or perform a manual technique to help you get back to your sport, hobby, or everyday life. I also love helping patients that are dizzy! Please come to me if you are having any vestibular or balance issues!
I enjoy treating yoga practitioners, hikers and backpackers, CrossFit athletes, older athletes, vestibular disorders, pickle ballers, and anyone looking to learn about incorporating and optimizing plant-based nutrition or mindfulness into their daily life. 
I love treating patients one-on-one and being able to provide quality therapy to each of my patients. I am a passionate physical therapist and I love spreading my knowledge and understanding of the human body to each one of my patients to optimize their quality of life.
What's Emma Reading, Listening To, or Watching?
#PTonICE Daily Show (Podcast) 

Unlocking Us (Podcast)

The Dresden Files Series (Book)
I love to do yoga, be in nature, and move in any way whether that be doing my daily CrossFit WOD, training for a marathon, or backpacking in the mountains. I also love to learn about organic farming and sustainable agriculture, volunteering on farm animal sanctuaries, as well as experimenting with healthy recipes in the kitchen.